South Africa : September 2001

SUMMARY
Pictures:
---
We planned this trip by using an indispensable book for this: "Essential Birding Western South Africa" of Callan Cohen, Claire Spottiswoode publishing STRUIK. We also joined the South Africa birds list SABIRDNET. That allowed us to obtain a lot of advices and especially the precious help of one of the authors of the book which speaks French: Claire Spottiswoode.
We choosed this country because of the great number of endemic species, the timeliness to make a pelagic trip near Cape town and the assurance to see the Right Whales... We went to the Kalahari to see some great mammals: especially Lion and Cheetah. We made many kilometers (4500km), but Valérie had never been in Africa and we wished to see the big fauna of Africa. On the first days we clearly had the feeling to miss time but finally we have no regret. The great variety of landscapes and birds widely balanced all the inconveniences.
Even if the weather was not with us (we had few hours of rain and wind and the temperature had never exceeded 23°C including in the Kalahari), it was a nice trip with about 260 identified species of birds and some interesting sights of Lion, Cheetah, wildcat, and naturally Whale…

Here is the trip we made :
- Sunday 09-09 : Silwerstroomstrand ; Darling Area ; Yzerfontein.Unfortunatly, we didn't have time to visit the West Coast NP (Night Yzerfontein in a guesthouse)
- Monday 10-09 : Kransvlei Poort and Lambert's Bay. A lot of road , a lot of wind and a lot of rain for this day ! We couldn't visit the colony of Cape Gannet because of the bad weather. (Night Clanwillam in a Guesthouse).
- Thuesday 11-09 : Namaqualand : Kamieskroon, Gamoep ; so many flowers ! (Night diepvlei guesthouse).
- Wednesday 12-09 : Bushmanland : Koa Dunes, Pofadder, Onseepkans (Night Twee Rievieren campsite : we arrived a 8h00PM but fortunatly a guard open the gate for us after half an hour during our picnic !).
- Thursday 13-09 : Kalahari NP : Twee Rievieren to Nossob campsite with one African Wild Cat, and two Cheetah
- Friday14-09 : Kalahari NP : Nossob campsite to Twee Rievieren with one Lion near Bedinkt less than 5 meters !
- Saturday 15-09 : Bushmanland : Kenhardt, Brandvlei (Night Brandvlei guesthouse)
- Sunday 16-09 : Bushmanland to Koroo NP : Sakrivier, very beautiful untared road to Williston and Fraserburg and Karoo NP. We took the wrong road after Fraserburg and we crossed the Molteno Pass at night (Night Karoo NP).
- Monday 17-09 : Karoo NP with a night drives : one Aardvark
- Thuesday 18-09 : A lot of rain between Karoo NP to the top of Swartberg Pass : the first Protea. We find one Victorin Warbler : Thanks to Claire Spottiswoode and Callan Cohen for their book ! first walk to Wilderness NP (Half-Collared Kingfisher trail) and first Lourie (Night Wilderness NP campsite)
- Wednesday19-09 : Wilderness area with a walk between 7h00 to 13h00 on the Giant Kingfisher Trail, very good birding and nice pictures too. Langvlei Lake, Rondevlei Lake, Sadgefield.
- Thursday 20-09 : Farmland Loops, De Hoop NR (Night Buchu Buch Camp)
- Friday 21-09 : Potberg for the Cape Vulture, De Mond NR, Hermanus, African Pinguin at Batty's Bay, Simon's Town (Night B&B Windy Ridge)
- Saturday 22-09 : a small day for us with a lot of wind : Kirstenbosch, Kommetjie.
- Sunday 23-09 : The pelagic trip with ZestII : cannot be missed, incredible, unforgettable...
- Monday 24-09 : the beautifull Cape of Good Hope Reserve and the last Albatros before a long time ! Airport at 3h00PM.
Voici un compte rendu en image de chaque journée :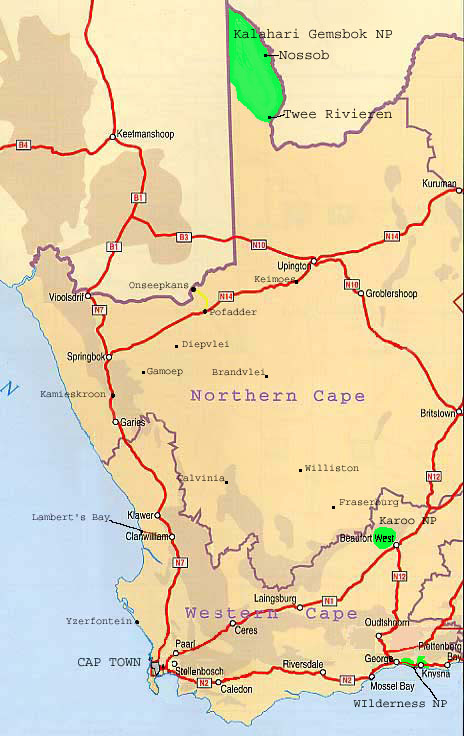 SUMMARY